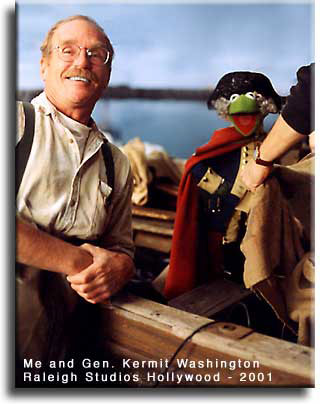 At one point during filming, Kermit's leg kept flying up when he would brush back his cloak and point. The director wanted us to stop that from happening.
I went over to the side of the pool, grabbed a stapling gun, and headed back. With all production stopped, the stage fell very quiet, and all eyes were upon me as I slogged back to the boat. Holding Kermit's foot in place, I stapled it down with a quick motion.
Kermit suddenly jerked upward and started screaming loudly!
"OWWW! YOU'VE STAPLED MY FOOT!! YOU IDIOT!! THAT'S MY FOOT!!!"
I jumped backward in panic at what I'd done - the crowd on stage gasped in horror!
....hey..wait a minute...It's just a puppet! What the..?
The entire stage erupted in laughter when we all realized we'd been "had" by the practical-joking operator of Kermit. HA!
Several minutes of laughing ensued before we all could get it back together and continue the shoot. Damn funny! Taken in - hook, line, and sinker - by a frog puppet! Hahahaaa!
The above picture was taken during those minutes of trying to recover from the shock.