The story of the discovery of the oldest human remains in the Western Hemisphere,
discovered by Howard Wilson in Laguna Beach California

© 2003 Steve Turnbull
It was a hot, sunny day in Laguna Beach California in 1933, when 17 year old Howard Wilson showed up at his pal Ed Marriner's house to talk to him about something that he had been thinking about lately. Howard had plans for a great adventure that day.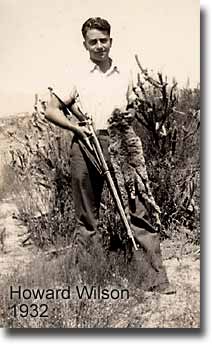 Howard and Ed often spent time together, roaming over the empty Laguna landscape searching for local Indian artifacts. They both had been well schooled in the lay of this rugged land, the coastal bluffs, it's rivers, hills and canyons. They both had spent most of their youth scrambling amongst the hidden treasures of this unique coastal environment, and they loved it deeply. They shared a common interest in the history of the area, and especially the living history of the inhabitants that were living here before the Spanish "discovered" them in the late 1500's.
They also knew exactly where to look amongst the cliff tops and fields of coastal Laguna for places the Indians lived and worked. Indian village sites were scattered everywhere along the coast and easy to find - if you knew where to look. The patches of rich black soil filled with small bits of chipped and burned rock, mixed in with seashells by the thousands, that told them this was the living floor or "midden" of a vanished people who once populated the coast.
The makers of these middens, were a semi-nomadic group of desert culture people that had come into the Southern California area around 3,000 years ago, displacing the older "Oak Grove" people, who were here before them by nearly another 3,000 years earlier. Little is known of these earlier "Oak Grove" people from that ancient time, but a great deal is known of the more recent folk.
Coming from the harsh deserts of the Southwest, they had brought with them the tools and traditions of a nomadic people who had learned to fashion their lives around the constant need to migrate in the never ending hunt for food. When they arrived at the coast they continued their ancient habits after a fashion, but only between the oak tree filled mountains with their plentiful acorn supply, and the coast with it's unlimited supply of fish, clams, abalone and small game. Life was so good and so easy compared to the desert, that they kept their tools and culture little different from what they already knew. Apparently they felt little need to improve their circumstances - it was near perfect as it was.
When the Spanish missions were established, these unfortunate and gentle people were rounded up and named after the missions to which they were sent. The Laguna people were split in two groups. Those north of Aliso Canyon were sent to Mission San Gabriel and called the "Gabrielinos", while those to the south of Aliso were sent to San Juan Capistrano Mission and became the "Juanenos".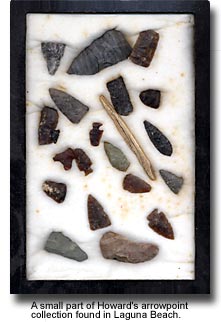 Howard had already amassed a sizable collection of stone tools, arrowpoints, carved shells, and cooking utensils left behind by these now vanished peoples, but that was not their goal today. He had bigger, more exciting plans for today's adventure. Today they were going to look for something new. Something entirely different.
They went looking for a rumor...
The rumor was that a few years earlier some workmen were digging the foundation for a new house on St. Anns Drive when they found some skeletal remains...a few old skulls...that looked like humans. The workers supposedly crushed them up and tossed them into the cement mix for the slab and continued working. Howard figured that if it were true, there might be other remains still to be found in the area, and it would be a perfect way to spend a sunny summer day with his adventure buddy Ed.
The boys set off with the the typical high hopes of youth, thinking that finding a an old bone would be quite a thrill, little knowing that even their wildest dreams of discovery would not match what they were about to do...
They were about to meet the first American!
---
© 1986 - 2010 Steve Turnbull
last updated November 23, 2023